Parlor Gallery Anniversary Party and Exhibition
February 18th – March 26th, 2017
Ryan Cronin ~ Since the early 1990s, Ryan Cronin has been approaching his practice from a place of inclusivity. Engaging in a dialogue surrounding the accessibility of art, Ryan expands on the legacies of Robert Indiana, Philip Guston and David Hockney. With his distinctly signature style and a desire to assimilate icons from his New York community into a visual vocabulary, Ryan draws upon street signs and cultural markers as sources of inspiration. As a painter, sculptor, muralist and product designer he appropriates text and figures from his surroundings to reconfigure the world through art. While pop art tendencies arise in his work, graffiti art, primitivism, his New York upbringing and film school background influence his style.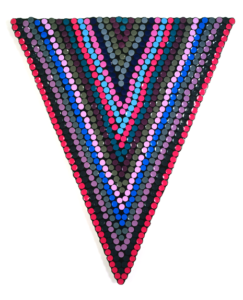 Robert Melee, who describes the theme running through his work as "high gloss, psychological abstraction," explores the psychology of American suburbia in his campy videos, photographs, paintings, sculptures, installations, and performances. He characterizes his output as: "Brave, baloneyism, contrasting, plastic, organic, camp, fearless, humorous, gay, surface, honest, fake." Among his numerous neologisms, "baloneyism" refers to what he sees as the aesthetics of suburban dysfunction, the sexual, social, and emotional repression masked by comfortable domestic interiors centered on the television console. By incorporating domestic objects, and even his own mother, into his works and making them appear abject, he aims to reveal suburbia's seamy underbelly. Inspired by Lynda Benglis, Melee is known for pouring garishly colored paint over his figures and objects, and for the marbleized surfaces of his re-created home interiors, which express the neuroses animating home life.
Percy Fortini-Wright is a Boston based artist who received both his BFA and MFA from the Art Institute of Boston at Lesley University. While in his youth he wrote graffiti, most active during the late 1990's, becoming a technician of wild style graffiti letters, tags and bubble letters while simultaneously he evolved as a traditional painter of scenes, abstraction, and portraiture to his characters the Children from Beyond. In graduate school he mentored with artists Paul Rahilly, Ken Beck, Paul Goodnight, Vanessa Platacis, and Dike Blair. His inspirations range from painters like Anders Zorn to John Singer Sargent, to wild-style graffiti pieces and tags. Exhibiting within both the public and private spheres and creating large and small-scale pieces, Percy merges the worlds of classical painting and graffiti techniques boldly pushing the boundaries of his work, without being confined by stylistic stereotypes.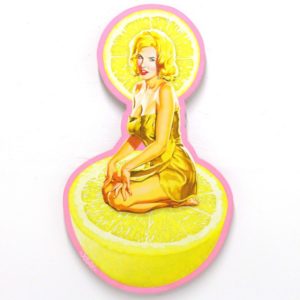 XRAY ~ Based in Montreal, XRAY is from Florida, a place that has a significant influence on his choice of colour palette. He traveled extensively during his childhood as part of a military family, living in Japan, Alaska, and Texas while always maintaining roots in Florida. He started out as a graffiti artist in the early 1990's at which time he was also involved with skateboarding and hip hop culture, eventually leading to commercial themed projects for the likes of Disney and Universal Studios. Since moving to Canada in 2008, he has focused on creating his unique brand of artwork. The pop artist cites a wide range of inspirations: military insignia, nature, tattoos, tarot cards, secret society symbols, Japanese art, propaganda, videogames, science, and action movies. XRAY is primarily known for his wooden cut-outs and vibrant paintings, often referencing advertising art from the 1950's to the 1990's with nods to current pop culture and vintage skateboard graphics. His aesthetic consists of clean lines, cartooning, and a specialty for unique typographic elements. (Station 16)
"I have been creating sculpture, art furniture, and fiber art for over thirty years. Irony and whimsy dominate my art. Resurfacing found objects is a way for me to express dicotamies like inner meaning versus outer meaning, façade versus core, child-play versus grown-up despair. The objects are chosen for their relationship to our present culture and their sculptural interest, positive and negative spatial relationships, and scale. Using glass seed beads that are both translucent and iridescent accentuates the play of light on the object and gives one the richness one finds in tapestries and mosaics. Gluing one bead at a time on an object satisfies my obsessive nature and gives each piece a power. The patterning and color relationships are mostly derived from nature, particularly felines, reptiles and insects." -Andy Pawlan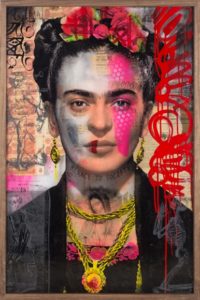 Mariano (BNS) is a Buenos Aires-born and Brooklyn-based mixed media artist. Inspired by the energy of the metropolitan environment that has always surrounded him, he is constantly leaving imprint by letting his workflow both on and off the streets.BNS's passionate expressive style originates from his study of urban scenes, graffiti and street art culture; characterized by numerous layers his works are usually a mix of media such as spray paint, acrylic, silkscreen, ink and photography. His work has been featured across the globe, from the multiple cities in the United States to Spain, Australia, Russia and Argentina among others.
Pam Glew ~ British contemporary artist best known for bleach painting on fabric. Started making art on flags and textiles in 2007; dyes fabrics dark shades and paints over them with bleach. Work shown internationally in 6 major solo shows and over 100 group exhibitions. Has produced commissions for Armani, Ralph Lauren, MTV and Microsoft and has collaborated with photographers Terry O'Neill and Bill Wyman from The Rolling Stones.
Aaron Whisner is co-founder of Clean Hands, a Tulsa based mural crew and streetwear shop. Aaron has been actively painting since the mid 90's. With roots in graffiti and street art scenes, inspiration is drawn from hand painted signage, street textures and type. Bold use of imagery and technique is used to capture public attention while maintaining balance with surrounding environments. With each installation progression is the goal.
Claudio Roncoli was born in Buenos Aires, 1971. He is Professor of Drawing and Painting graduate of the National School of Fine Arts Prilidiano Pueyrredón" (1995). Attended workshops in Argentina Andrea Moccio and Miguel Lescano in Peru. By his own definition is primarily: an interventionist. Claudio Roncoli inspired by images that were part of popular culture during the 50, 60 and 70 which then redefines the artist.
In his latest creations, incorporates elements of advertising, cartoon, graphic design and collage, weaving them with resources such as imaging or re-photograph. Using a special technique and without abandoning his wry humor and scathing, through what he calls the "constant balance of life", the juxtaposition of images and bright colors using the viewer moves to a "brave new world".
David Wallace is a collage artist, painter, graphic designer, illustrator and musician living in Pittsburgh, Pennsylvania. His work has been shown in many cities in the U.S. and overseas including Pittsburgh, Nashville, Atlanta, St. Louis, Columbus, Long Beach, Asbury Park, Brooklyn, Cork and Berlin. His work has been called "intelligent and impeccably crafted" by the Bethesda Gazette and has been said to "speak volumes about history, humanity or both" by the Tribune-Review. His illustration work has been featured in the Communication Arts Illustration Annual and his collage work has been published in Cutting Edges by Gestalten, Masters: Collage by Lark Books and Exhibition 36 by North Light Books.
David Williams ~ "I choose to take already existing images and turn then back on themselves, using them for purposes for which they were not intended. I use remembered images from rainy day hours as a child in the 70's sketching from old magazines at my grandfather's summer farm in eastern Kentucky ; Popular Mechanics, Woman's Day : whatever had been kept and stored away. Images from my travels abroad. The paintings and monoprints I produce tell stories of men and women and how they view themselves and each other. They are images of sex and power, or the lack of sex and power, manipulation and frustration. I use multiple images as well as multiple painting styles in each work, layering image on top of image. Bringing forth disturbing messages from within our culture — and our hearts." – D. Williams